RAINBOW BEACH
 3 hour drive from Brisbane
2 hour drive from Sunshine Coast
Inskip Barge to the Southern End of Fraser Island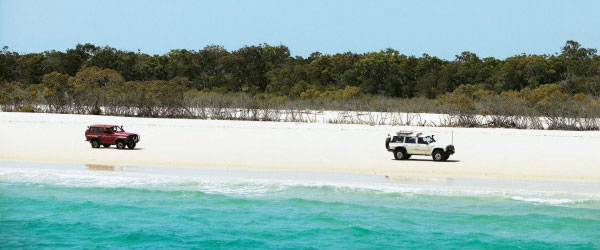 If you like the Sun, Sand and Surf, using an East Coast 4WD hire vehicle to explore the pristine beaches is the only way to go!
Leaving from Rainbow Beach you can have options to do the beach run down to Noosa North Shore or catch the barge at Inskip Point to journey to the world's largest sand island – Fraser Island.
In Cooloola, Fraser Island, Moreton Island and Bribie Island areas, vehicle permits are required for driving on beaches and tracks.
Please click the link to the State Governments – Vehicle Access Permit Fees site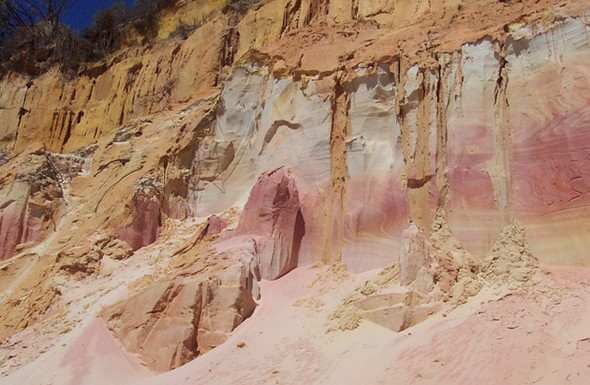 Rainbow Beach – Coloured Sands
Rainbow Beach's famous Coloured Sands are steeped in Indigenous Australian folklore and mythology.
Rainbow Beach is appropriately named as the coloured sands have been created by iron rich minerals in the dunes.
Over thousands of years, the sand has developed a complex array of tones and hues.
The yellows, browns, and reds blend to compose over 70 different colours and tints.
When the dunes collapse or the top layers are removed by wind and rain the amazing multi colours are exposed.
The shore line provides a great viewing spot of the towering coloured cliffs and canyons.
Visitors will not be dissappointed by the intense and diverse palette of sand shades.
Beach Drive to Noosa
The beach access from Rainbow Beach will take you east to Double Island Point and then south to Noosa North Shore and access across the Noosa River by ferry to the popular tourist destination of Noosa.
The estimated distances for the drive is as follows:
Rainbow Beach to Double Island Point – 13 km
Leisha Track (Beach crossing at Double Island Point) – 1km
Double Island Point to Noosa North Shore 3rd beach crossing – 44 km
Vehicle Access Permits are required on some parts of the beach between Rainbow Beach and Noosa North Shore.
The beach drive also has designated camping zones along Teewah Beach.
Site seeing locations such as:
Rainbows Beach's famous coloured sands
Poona Lake accessible by the fresh water track
Double Island Point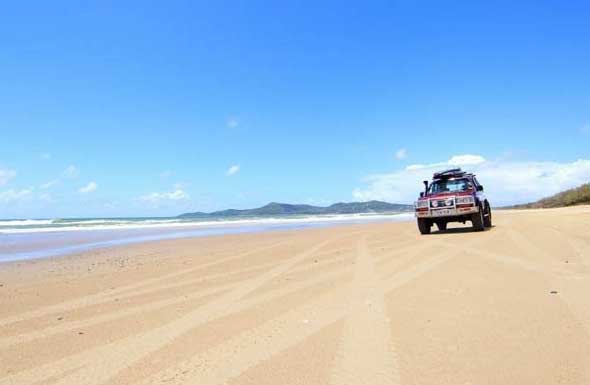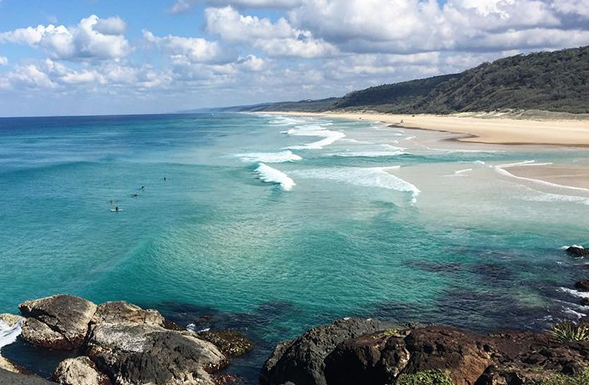 Double Island Point
With a good swell the northern side of Double Island Point provides right-hander breaks over sand, and for perhaps as much as 300 metres in ideal conditions.
This is also the last (northernmost) recognised break on the east coast mainland.
This location also provides a great access point to see marine life.
From late July to November , Dolphins and whales are a common sight in the area.
Other life such as turtles, sharks, sting rays, manta rays, dugongs and fish can also be seen from this headland.
A formation of four volcanic pinnacles named Wolf Rock, is only a short distance from the point and is rated as one of Australia's top 10 dive spots.
Our 4WD vehicles will provide you the perfect transportation to this area. You will need a Vehicle Access Permit to travel.
Poona Lake and the Fresh Water Track
Access from Rainbow Beach is via Freshwater Road a well maintained gravel road to take you to a day use area.
From there our 4WD Hire Vehicles will provide you the best vehicle to take you across the track through to Teewah Beach.
The Fresh Water Track is often rough in sections, so this will provide you with a few good challengers and adventures but provide you access to the magnificent rain forests that are dotted throughout the coastal forests.
Quite an adventure.
Best to avoid during peak times.
A Vehicle Access Permit is required once past the Bymien Picnic Area.