NOOSA
 1 hour 45 mins drive from Brisbane
38 min drive from Sunshine Coast
Access to the Noosa North Shore Beach
and up to Rainbow Beach

If you like the Sun, Sand and Surf, using an East Coast 4WD hire vehicle to explore the pristine beaches is the only way to go!
Leaving from Noosa North Shore you can cross the Noosa River by ferry and begin your journey north to Rainbow Beach.
Then continue on the barge at Inskip Point onto the world's largest sand island – Fraser Island.
In Cooloola, Fraser Island, Moreton Island and Bribie Island areas, vehicle permits are required for driving on beaches and tracks.
Please click the link to the State Governments – Vehicle Access Permit Fees site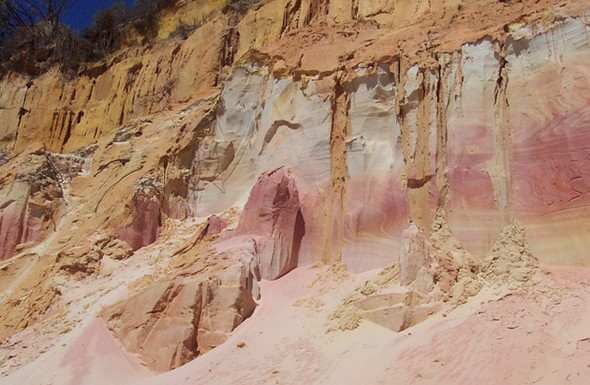 Noosa North Shore
Across the river from Noosa Heads and Noosaville is the Noosa North Shore – a long stretch of white sand, dunes and beautiful coastline and the gateway to World Heritage-listed Fraser Island and Great Sandy National Park.
East Coast 4WD hire provides a great option for exploring the area check out our pricing 4WD Hire vehicles pricing.
A car ferry operates 7 days a week from Tewantin to take you to Noosa North Shore and beaches. From the beach access point, engage 4WD and enjoy the 60 kilometer plus range of beach driving all the way to Double Island Point.
Vehicle permits are required to drive along the beach and on some inland tracks. We can organise this at cost.
Noosa North Shore Car Ferries operate two car ferries 365 days a year from the river end of Moorindil Street, Tewantin, departing approximately every six minutes.
The ferry is open from:
Sunday – Thursday: 5:30am to 10:20pm
Friday – Saturday: 5:30am to 12:20am
Please see http://www.noosacarferries.com for further information.
Cost is $6.00 each way.
We can advise on accommodation options and provide basic camping gear if you would like to stay in one of the many camping spots in the area.
Beach Drive to Rainbow Beach
After crossing the Noosa River by ferry, you will gain beach access to drive from Noosa North Shore to Double Island Point. Then west to Rainbow Beach.
The estimated distances for the drive is as follows:
Noosa North Shore 3rd beach crossing to Double Island Point  – 44 km
Leisha Track (Beach crossing at Double Island Point) – 1km
Double Island Point to Rainbow Beach – 13 km
Vehicle Access Permits are required on some parts of the beach between Noosa North Shore and Rainbow Beach.
The beach drive also has designated camping zones along Teewah Beach.
Site seeing locations such as:
Rainbows Beach's famous coloured sands
Poona Lake accessible by the fresh water track
Double Island Point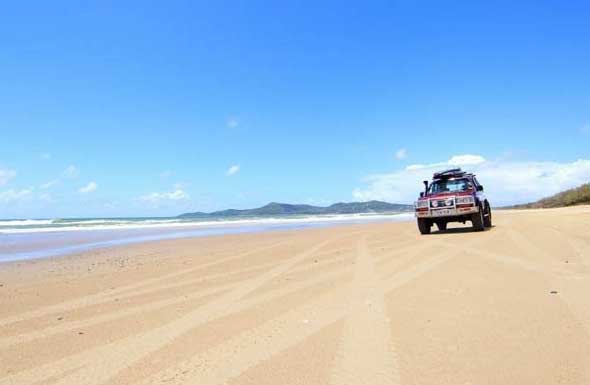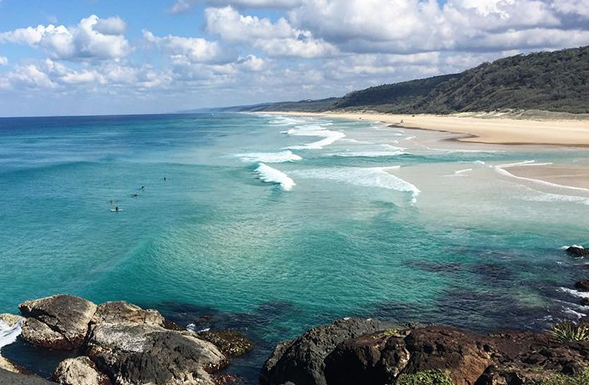 Double Island Point
With a good swell the northern side of Double Island Point provides right-hander breaks over sand, and for perhaps as much as 300 metres in ideal conditions.
This is also the last (northernmost) recognised break on the east coast mainland.
This location also provides a great access point to see marine life.
From late July to November , Dolphins and whales are a common sight in the area.
Other life such as turtles, sharks, sting rays, manta rays, dugongs and fish can also be seen from this headland.
A formation of four volcanic pinnacles named Wolf Rock, is only a short distance from the point and is rated as one of Australia's top 10 dive spots.
Our 4WD vehicles will provide you the perfect transportation to this area. You will need a Vehicle Access Permit to travel.